We now have a few weeks of beta testing behind us. Man oh man have we learnt a lot and yet there are still so many things we are still getting the hang of. Our team of beta testers continues to grow, and with it our services continue to evolve and improve. A big BIG thank you to all who have helped us promote playmoTV and get to where we are today.
Today we launch a new playmoTV feature. Our blog.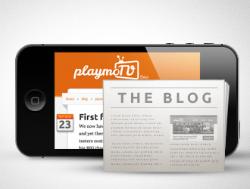 The blog won't be just us ranting and raving. We want the blog to be an interactive forum with you guys, our users.  A place where we can throw out an idea and get your feedback. We need your guiding lights if we're going to steer playmoTV to music, movie and TV heaven. The blog will also serve as a platform for service updates, introduction of new features, as well as fun tips on what we've been watching lately. You're hereby invited to join in the conversation.
Help us reshuffle our to-do list
To begin with, our focus was to support a few major media content providers like Netflix, Hulu, and Amazon Video. Some of these entertainment giants also have mobile and/or gaming console clients – these had to be supported as well. Some of our early adopters then suggested we support streaming music and online radio stations and abracadabra - support for Pandora and Spotify was quickly implemented. Next on our agenda is looking into Google Music and iTunes Match which we hope you'll like. As time is our most limited resource, we wanted to figure out a way to prioritise the good feedback and excellent tips we receive from our users. This is where the playmoTV blog and you guys come into play. We want to you help us shape our 'to-do' list by leaving your ideas in the comments below.
Yes, playmoTV is still free
Some of you have rightly asked how playmoTV will become sustainable, being free of charge and all. Some might even think its some kind of a sham because it's free. Worry no more. When we officially launch playmoTV, we fully intend to charge a small monthly fee for the access through our gateway to geoblocked media content providers. However, we really want to keep the price as low as possible. For this to happen, we need a number of users. Not just a few but a few thousand and preferably tens of thousands to keep playmoTV up and running.
But before we start charging you, we need more 'besters' or beta testers to ensure the reliability of the playmoTV gateway. So please, tell your friends
Tell your friends
It's super easy using Facebook, Twitter or Email. Oh and yes, there something in it for you.
By sharing your personalised invite to playmoTV with your friends and family we'll be able to reward you for the friends that you successfully add to playmoTV. So get going. Be the first of your friends and claim the most rewards. It's a win-win for you, your friends, and for playmoTV. The magic button is located on the top of playmo.TV (you have to be logged in to get your personalised referral code).
Ted and the playmoTV team