DirecTV NOW
What is DirecTV NOW?
DirecTV NOW is an American live TV service, offering packages from $35/month and aimed at cordcutters. As such, DirecTV NOW is available to its users without a contract, so you can cancel anytime.
If you are a playmoTV user you can access DirecTV NOW outside the US (as a matter of fact anywhere in the world).
I wanna access DirecTV NOW ASAP! What do I need to do?
If you're not a playmoTV user then you need to do the following (existing users that are linked can go to step 3):
Sign up for a playmoTV account (takes less than a minute if you sign up via Facebook)
Link your computer or device to the playmoTV gateway so we can help you access DirecTV NOW.
Sign up for DirecTV NOW at their website. Yes, it's that easy!
How much does DirecTV NOW cost?
DirecTV NOW offers a variety of packages, which are listed on the image below: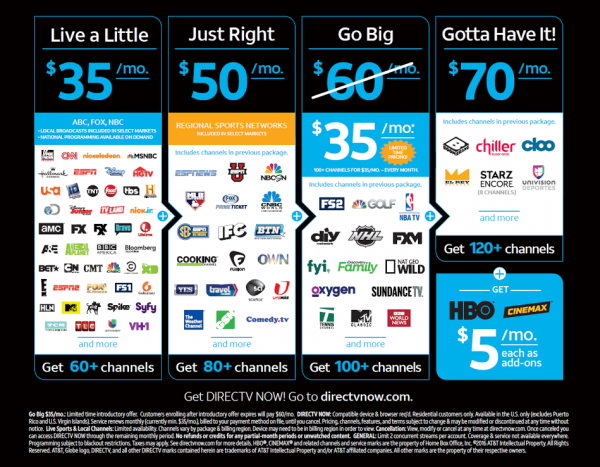 DirecTV NOW also has two add-ons, which is access to HBO NOW live for only $5/month. (HBO access via DirecTV NOW also gives you access to HBO Go).
What content is on DirecTV NOW?
Live sports, Live TV. A lot of on-demand content as well.
How to subscribe to DirecTV NOW
You can sign up for DirecTV NOW by using your credit card. When they ask for your zip card before submitting your credit card information just remember to write your zip code along with some additional digits so DirecTV NOW thinks you're in the US.
Supported devices for DirecTV NOW
DirecTV NOW is supported on the following devices:
Mac/Windows.
Amazon Fire TV/Fire TV Stick.
Roku players
Website: directvnow.com
Note (July 2, 2018): DirecTV NOW recently made some changes to their service, after which Location Services needs to be Enabled on iOS devices and Apple TV. The service has shifted back and forth about this setting a couple of times, so we're hoping they will do that again. Having said that, we recommend Sling TV over DirecTV NOW if you need an alternative service for live TV streaming.
You can watch on these devices
Our payment partners