Here at playmoTV we're always striving for greatness. So the other day we were sitting around and thought to ourselves, "Mobile! We need to go mobile!" That's what we're talking about here today and we couldn't be more excited to tell you about it!
Why are we so excited? Because the new mobile web app makes things so much easier for our streamers! Right from your phone or tablet you can do things that you used to have to fire up a computer for. No more!
Let's run through a few, shall we :)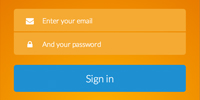 First things first; log in!
To get the most out of our app log into your playmoTV account. Pretty nice huh?
After you log in, you'll head to our new dashboard page.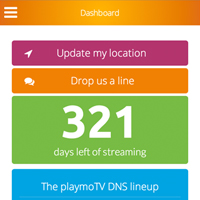 Here, you can see a few things. First, and perhaps our favorite feature is the "Update my location" button. Every now and again your Internet router refreshes your IP address (your own little address on the Internet) and so, we have a tough time telling where you are. Used to be, in the old days, you had to go to your computer, visit playmo.tv and update your location. There are two ways to do this on our shiny new app. The first one is simply to select the button. It's fine and gets the job done, but why do that when you can shake your phone to update your location! That's right, just give your phone a shake and you're all set!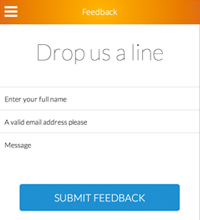 Right below that is our "Drop Us a Line" button. I know. We love it and we're always happy to get your questions, feedback and well-founded disagreements in our inboxes, so don't hesitate. Send us a message!
Right below our contact button, you can see your current subscription status, detailing how many days left you currently have. If you'd like to add more days, you'll have to head over to our full site for the time being. We're working on including the ability to reup your subscription in the app and hope to have that squared away soon.
Right below that, you have a simple run down of our DNS Servers. There's plenty to choose from, so we can guarantee you'll get a nice solid connection. Be sure to select two servers, beginning with the one closest to you – that'll get you the best streaming possible.
Wait, there is more …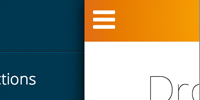 In the top left corner of our app, you will find the menu (it's usually called the hamburger icon) button which breaks out a whole suite of wonderful new things as well. You can also just swipe with your finger to reveal this menu.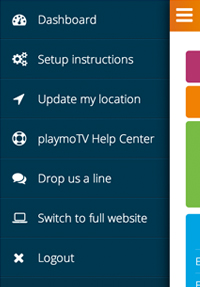 We want to make using playmoTV as easy as we possibly can.
That's why we've detailed step-by-step instructions on how to link your device to our service. Clicking on Setup Instructions will bring you to these tutorials for all of the devices we support.
Ultimately, our goal with the app is to make it so our streamers don't have to hop onto a computer for anything at all, unless it's to watch their favorite show. We're working on adding a couple of great, full web features.
Stay tuned to the blog for more announcements about our app and our service as a whole! It's an amazing time here at playmoTV and we couldn't more excited that you're here to share it with us. Don't hesitate to drop us a line (with your app hopefully!) if you have any questions or comments!
Now stop reading about it – just try it. Head over to playmo.tv on your phone.