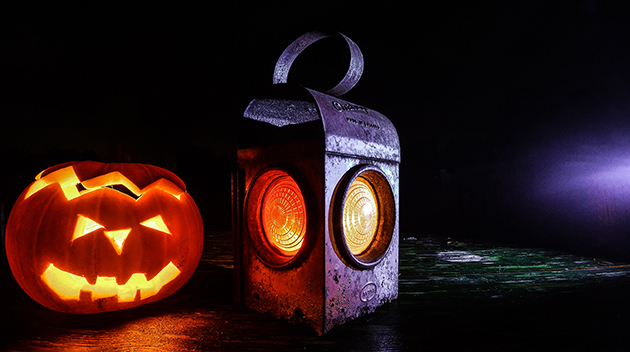 The air is getting a bit colder and the sun goes down earlier. The smell of leaves and firewood is in the air and just at dusk, there's something sort of…eerie about your neighborhood. It's Halloween time! That means a great opportunity to explore all the great movies that Netflix has to offer!
Silence of the Lambs (1991)
If you haven't already, acquaint yourself with Hannibal Lecter, played beautifully by Anthony Hopkins in this chilling thriller, than make it a point to do so this Halloween. Silence of the Lambs is more of a psycho thriller than a "pop-out monster" horror film, but it was one of the best movies of the year and, arguably, one of the best horror films ever. The movie won several Academy Awards for Best Picture, Best Director, Best Actor (Hopkins), Best Actress (Jodie Foster) and Best Adapted Screenplay. It is currently only the third horror film to win the Academy Award for Best Picture, along with The Exorcist and Jaws. It is considered considered "culturally, historically or aesthetically" significant by the U.S. Library of Congress and was selected to be preserved in the National Film Registry in 2011.
The story is adapted from Tom Harris' book of the same name published in 1988 and revolves around a young FBI Agent named Clarice Starling who is tracking down a serial killer named Buffalo Bill. During the course of her search, she interviews Hannibal Lector, a convicted and imprisoned serial killer who cannibalized his victims. This film is definitely for the adults only – the gore and language is one thing, but it'll twist your brain into knots as well and definitely keep you up at night! A must watch this Halloween.
Available where? Netflix Australia, Netflix Brazil, Netflix Netherlands, Netflix Sweden, Netflix USA
The Nightmare Before Christmas (1993)
Going in the complete opposite direction from our first choice, The Nightmare Before Christmas is geared toward younger audiences, but you certainly don't have to be a kid to love it! The movie is filmed in stop-motion and was released by Disney under TouchStone pictures because the company thought it was too dark for kids. Little did they know that it would become a class among younger folks, albeit young teenagers. It became so popular that between 2006 and 2009, the movie was reissued in 3D each Halloween. The movie does, in places, have more to do with Christmas than Halloween, but its got skeleton, ghouls and goblins galore, so no worries.
The story centers on Jack, who lives in a fantasy world called Halloween Town, whose inhabitants are charged with producing the holiday each year. There are towns for each holiday, however, and Jack begins to wonder what the other holidays may have to offer. Adventures ensue! It's a great family film if you have some older kids in the house and wickedly funny.
Available where? Netflix Brazil, Netflix Canada, Netflix USA
The Addams Family (1991)
A true comedic family film, The Addams Family is based on the television show of the same name. The story follows the namesake family, as led by Gomez Addams and his wife Morticia. They go on all sorts of adventures to find Gomez' brother Fester. The film did incredibly well when it debuted in 1991 and remains a staple of Halloween to this day. Moreover, it's one of a grouping of movies appropriate for all ages, while still being a horror film. If you've got little ones who are being introduced to ghosts and Frankenstein, this is the movie for you.
Available where? Netflix Brazil, Netflix Canada, Netflix UK, Netflix USA
The Babadook (2014)
Now to the complete opposite side of the spectrum to a film that is so frightening and indicative of the horror drama that Stephen King thought it was well done and terrifying. The story tells the tale of a widower who, along with her son, become possessed by and fight off an evil entity named the Babadook. The movie is not for the faint of heart and doesn't rely on pop-up monster frights, instead opting for some genuinely terrifying moments as suspense builds. Even William Friedkin, the creator of The Exorcist called it the best horror movie he's ever seen, noting that "it will scare the hell out of you just like it did for me." Not much more to be said about this one…you just
have to go stream it!
Available where? Netflix Brazil, Netflix UK, Netflix USA
Other notable Horror movies on Netflix
Rosemary's Baby (1968): Netflix USA
Let The Right One In (2008): Netflix Australia, Netflix USA
The Omen (1976): Netflix Canada, Netflix UK, Netflix USA
Scream (1996): Netflix France, Netflix Netherlands, Netflix UK, Netflix USA
From Dusk Till Dawn (1996): Netflix Brazil, Netflix France, Netflix Netherlands, Netflix Sweden, Netflix UK, Netflix USA.
Did we miss your favorite horror film? Then feel free to let us now on Facebook or Twitter :)