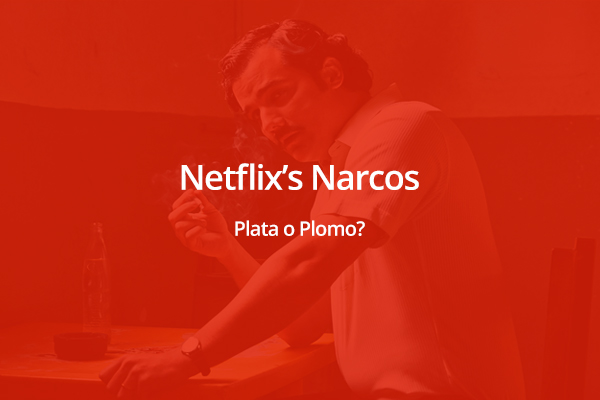 Narcos, a drug-fueled look at the Medellin Cartel and its kingpin leader Pablo Escobar streaming in full on Netflix on August 28. Narcos was so successful that the streaming service announced a second season of the show would grace its electronic airwaves next year. The ten episode story arc of the show treats us to action, a good deal of adventure, and an ample helping of gangster violence. The show follows Pablo Escobar as he builds and runs his criminal empire throughout the 1980's.
The show is big and epic because the man was big and epic as well. Escobar was, by far, richest criminal in history, raking in nearly $30 billion selling cocaine throughout the world, but in particular, to the United States. At it's height, the Medellin Drug Cartel, smuggled nearly 15 tons of cocaine per day. Escobar and his group spent $1,000 per week on rubber bands to bind the nearly half a billion dollars per day that they were making. Ten percent of that total, by the way, had to be written off at the end of the year as "spoilage" because rats would sneak into the warehouse at night and nibble on the hundred dollar bills.
This was a big man who played for keeps and Narcos does an outstanding job of chronicling his life and times.Escobar is played brilliantly by Wagner Moura, who has been a film star in his native Brazil for many years. The story is told through the eyes of Steve Murphy (Boyd Holbrook) a DEA agent and his journey to capture Escobar in the 1970's. Murphy addresses the audience considerably throughout, helping the viewer get into the mindset of a criminal who, before he was killed by Columbian troops in 1993, brought nearly the entire country of Columbia to its knees.
The best part about the show is that we not only see how Escober moves millions of pounds of cocaine into the United States, from production to smuggling, but also the political climate that makes this type of activity possible. Narcos does an excellent job of showing the viewer what a mess 1970-era Columbia really was, rife with corruption, bribery, and brutal murder.
Certainly for the adults in the house, Narcos is beautifully shot and depicts like no other piece, the odd dichotomy that existed – and still exists – with the American viewpoint on drugs. Holbrook's DEA agent character narrates his quest to capture Escobar throughout the show as he and partner Javier Pena (played by Pedro Pascal of Game of Thrones fame) learn about drug enforcement and Escobar's ways. Holbrook notes right from the outset that it used to be that a bust with a few pounds of pot was big for them. "Before long, we were seizing 60 kilos a day. They let us have 60 so they could bring in 600," he says as the first episode kicks off.
The show also makes extensive use of actual footage from the time, including Escobar's extravagant lifestyle and the aggressive hunt by both the US and Columbian governments to find him. Narcos is full of juxtaposition – the calm, relatively tranquil streets of the US, versus the bloody crooked alleys of Columbia. That dichotomy is never more apparent than with the almost cutesy depiction of First Lady Nancy Reagan's "Just Say No" to drugs commercial as compared to a few scenes later where Escobar is hanging enemies from trees and having them photographed.
Narcos is a rollercoaster ride from episode one to episode ten and is a must-watch for anyone who enjoys fast-paced, thought-provoking historical dramas. While some of the stories are stretched a bit for television, the shocking and sad thing is, many of them are not. Pablo Escobar really was as bad as he is portrayed in Narcos and the DEA really was as far behind him as the show lays out as well. Even the show's theme song is hypnotic.
Narcos is a must-see for the adults in the house, so stop reading and get to it! After writing this I'm itching to watch it again.