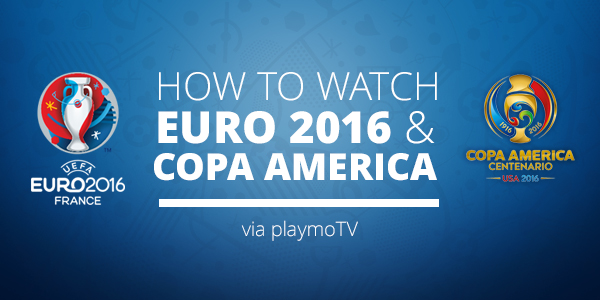 Before we bring you the news regarding EURO 2016 and Copa America we want you to know that we are still working on this situation regarding Netflix. Check our status page for more information.
EURO 2016
One of the leading football tournaments in the world, the UEFA European Championships will take place between June 10 – July 10, and our beloved users can surely enjoy the competition via the playmoTV gateway.
How can I watch EURO 2016 via playmoTV?
The easiest way to enjoy EURO 2016 is via TVPlayer because it offers access to both BBC and ITV, which will be broadcasting the competition in the UK. The best part of TVPlayer is that the service is free if you want to watch those two channels.
For those interested in watching the competition with US commentators, ESPN will be broadcasting games from the US, which is available with a Sling account ($20/mon). You can subscribe to Sling using your credit card.
By clicking here, you can see the full tournament schedule, along with information whether BBC or ITV is broadcasting the match.
Copa America
Later today the Copa America, one of the leading football tournaments in the world, kicks off with the opening match between USA and Colombia. The tournament will take place from June 3–26, featuring many of the world's best teams and players, like Leo Messi, James Rodriguez and more.
By visiting ca2016.com/matches you can see the full match schedule, so you can plan ahead and catch every game.
How can I watch the Copa America via playmoTV?
We support two services that carry the Copa America, fuboTV and Viaplay. The former has English commentators whereas Viaplay has Danish ones, so keep that in mind when deciding which service you wanna use.
The monthly price for fuboTV is $9.99/mon, whereas Viaplay offers a Sports package which costs 269 DKK (roughly $40/mon). You can subscribe to both services using your credit card.
Supported devices
You can find information about the supported devices for these services on our Watch page.