Hulu is the place to go for streaming your favorite shows from the big networks. Here are some of our favorite shows, that have full seasons on Hulu!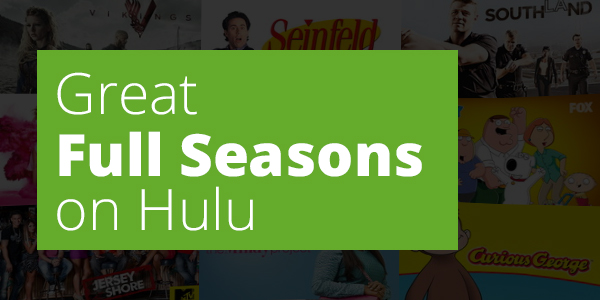 1 | Southland
More of a character-driven crime drama than a police procedural, Southland takes a hard look at the Los Angeles Police Department (LAPD) and specifically, the adventures of rookie Officer Ben Sherman and his training officer John Cooper, who is a homosexual, unbeknownst to most of the rest of the force. In later seasons, the episodes focused less on a serial aspect of storytelling and more on how the crimes actually came together, along with the investigation that went into sorting them out.
The show was originally on NBC but was picked up by TNT and went five seasons until May of 2013 when it was cancelled. Sort of a shame too! It got amazing reviews from critics, with some comparing it to shows like The Wire and Rescue Me, both of which are incredible shows in their own merit. Southland won an Emmy twice in 2011 and 2012 for outstanding stunt coordination, which isn't terribly surprising either because this is some gripping television. The show also grabbed a Peabody award in 2012.
An interesting note: the directors of Southland used former and current gang members on the show to depict gang violence – pretty impressive. The show is streaming now on Hulu and it's one of our favorites because of this idea – it is real.
2 | Family Guy
When Family Guy first aired on Fox, it was a total gamble, and it showed. Fox actually cancelled the Seth McFarlane adult cartoon creation in 2002. Adult Swim picked up the syndication and strong numbers, combined with great DVD sales, led to Fox picking the show back up. It's since gone 14 seasons and 269 episodes, while being nominated for 12 Primetime Emmy Awards.
The series have also led to three full-length feature films which are spoofs of the original Star Wars trilogy. And they're hilarious.
This one is definitely not for the younger kids in the house. The humor is definitely adult and the situations can be a bit raunchy, but it's perfect for watching with other adults and it's infinitely quotable.
Interesting note: The Cleveland Show  was a spinoff of Family Guy. It's interesting that they gave (in our opinion) the most uninteresting character a spinoff but it sort of makes sense. He's the most capable of actually leaving the weekly hilarity of the Griffin troop, in a way that, say, Stewie or Brian never could.
Either way, do yourself a favor and check this one out!
3 | Curious George
Going entirely in the other direction from number four is the lovable and kid-friendly Curious George.This one, if you can believe it, is already in its ninth season and features the same voice actors that contributed Curious George and The Man in the Yellow hat in the 2006 motion picture. The show is set up a bit differently than your normal 30 minute show – it features two, fifteen minute animated cuts with some live action in the middle. It may seem short, but in reality it's the perfect length for the little ones.
The best part about it is how Curious George and The Man solve problems based on math and science, passing off a bit of that learning as well. The artwork that the books are famous for does not always translate to the animation, but it would be hard for it to, we think. And, it's still very good.
If you're a parent, you know that you're always looking for a kids show that you don't despise watching as well. Face it, the worst possible thing is finding a show your kid loves but that you simply cannot stand. Rest easy, weary traveller, Curious George is easy on the adult eyes and ears!
4 | Vikings
Gosh, we were so excited when this show debuted on The History Channel and let us tell you what…we're still excited because it's just plain awesome. Inspired by the viking Ragnar Lothbrok – someone who sounds mythical, but was actually a living, breathing person – the series follows his band of pillagers as they cruise down to England and France to give the boys a bit of no-good.
Travis Fimmel plays Lothbrok and gives a stirring performance. The onus really falls on the actors here, as the times called for rough, dirty and quite often, bloody living. The show isn't necessarily appropriate for all ages, but it did originally air on The History Channel so there is no graphic nudity or use of abusive language.
If you're someone who thrives on comparisons, you can think about it as very similar to Game of Thrones, without dragons and magic. In that sense, it is very much like HBO's Rome.
5 | Seinfeld
If there is a "best of" list and Seinfeld is available as one of the choices and it doesn't make it on that list, you can disregard the entire thing. This was, by far, the best comedy on television, maybe ever. How do you know? The first episode aired in 1989 with the series running until 1998 and guess what…it's still funny in 2016. That's 27 years later. That's good comedy, kids.
In case you've been living under a rock for the last 27 years, the series revolves around Jerry Seinfeld (himself), George Castanza (Jason Alexander), Elaine Benes (Julia Louis-Dreyfus), and Cosmo Kramer (Michael Richards) and follows…well…their lives around the upper west side of New York City. The entire premise of the show is that they don't really do much. They just sort of experience life. At one point, Jerry and George actually write a pilot for NBC for a show about nothing…called Jerry. Likely one of the most meta moments in television history.
Critics adored this show when it was on because it was funny, fresh and applied to the everyday problems of many Americans. More than 38 million people tuned in during the last seasons of the show in 1998 and it still runs every single day of the week on a variety of television stations in the United States.
If for some odd reason you haven't seen it, go do it. Do it now.
Honorable Mentions
Jersey Shore: There's never been a better example of the absurdity that executives will put on television than this show. Similarly, you'll never see an entire state of a country disavow the actions of a group of people so quickly then you will here. Jersey Shore follows eight housemates and their summer shenanigans in Seaside Heights, New Jersey. The show ran six seasons and has spawned a ton of international spinoffs. If you need a good laugh, tune in. Not for all ages.
Empire: An amazing show that missed the list only because we're trying to stick to five. Empire centers around Empire Entertainment a hip-hop and R&B music company and the feud between the family members that run it. With generally positive reviews, particularly for the cast, the show was recently renewed for a third season. The premiere of the show ranked as Fox's highest in three years, so they're sure to ride this one for some time – hop on!
Project Runway: Make it work, as advisor Tim Gunn would say, and Project Runway has. Say what you will about the reality TV genre or the idea of a show centered around designing clothing – this one is awesome. So awesome, in fact, that it won a Peabody award in 2007. So there. It centers around several entrants who compete to see if their garment will win a contest at New York Fashion Week. Put this one on your list to watch.
And there you have it! There are a ton more full seasons on Hulu to check out. Don't be afraid. Watch a bunch of them. Binge watch them. Watch one or two episodes and then move on. Whatever you want – It's your streaming world!