What is Frndly TV
In the era of cord-cutting and on-demand streaming, Frndly TV is a relatively new player in the streaming world. Launched in 2019, Frndly TV aims to provide family-friendly television programming at an affordable price.
So what exactly does Frndly TV offer? The service focuses on live TV, offering a selection of popular channels that are typically found in cable TV packages. The channels include Hallmark Channel, Hallmark Movies & Mysteries, Hallmark Drama, The Weather Channel, Game Show Network, The Outdoor Channel, BabyFirst TV, and PixL. All of the channels are commercial-free, and Frndly TV also offers an on-demand library of movies and TV shows.
One of the biggest selling points of Frndly TV is its low cost. The service offers a single subscription package that costs $6.99/month. There are no hidden fees or contracts, and subscribers can cancel at any time. For comparison, traditional cable TV packages often cost over $100 per month.
I want Frndly TV now! What do I need to do?
If you are a playmoTV DNS user you can access Frndly TV outside the US (as a matter of fact anywhere in the world).
If you're not a playmoTV DNS user then you need to do the following (existing users that are linked can go to step 3):
Sign up for a playmoTV DNS account (takes less than a minute if you sign up via Facebook)
Link your computer or device to the playmoTV gateway so we can help you access Frndly TV.
Sign up for Frndly TV at their website. Yes, it's that easy!
Does playmoTV DNS come with a Frndly TV account?
No, playmoTV DNS only helps you unblock access to Sling TV. We assume that you either have a Sling TV account, or you will sign up for one after you sign up for playmoTV.
How much does Frndly TV cost?
As a live TV service, Frndly TV describes itself as the most affordable live TV service. Its packages range from $6.99/month to $10.99/month with the option to save 15% by paying annually.

What content is on Frndly TV
The service is aimed at families and those who prefer wholesome, family-friendly content. If you're someone who enjoys edgier or more adult-oriented programming, you may find the selection of channels too limiting.
Overall, Frndly TV is a solid option for those who want live TV without breaking the bank. With its low cost and family-friendly programming, it's a great choice for families, seniors, and anyone who wants to save money on their entertainment expenses.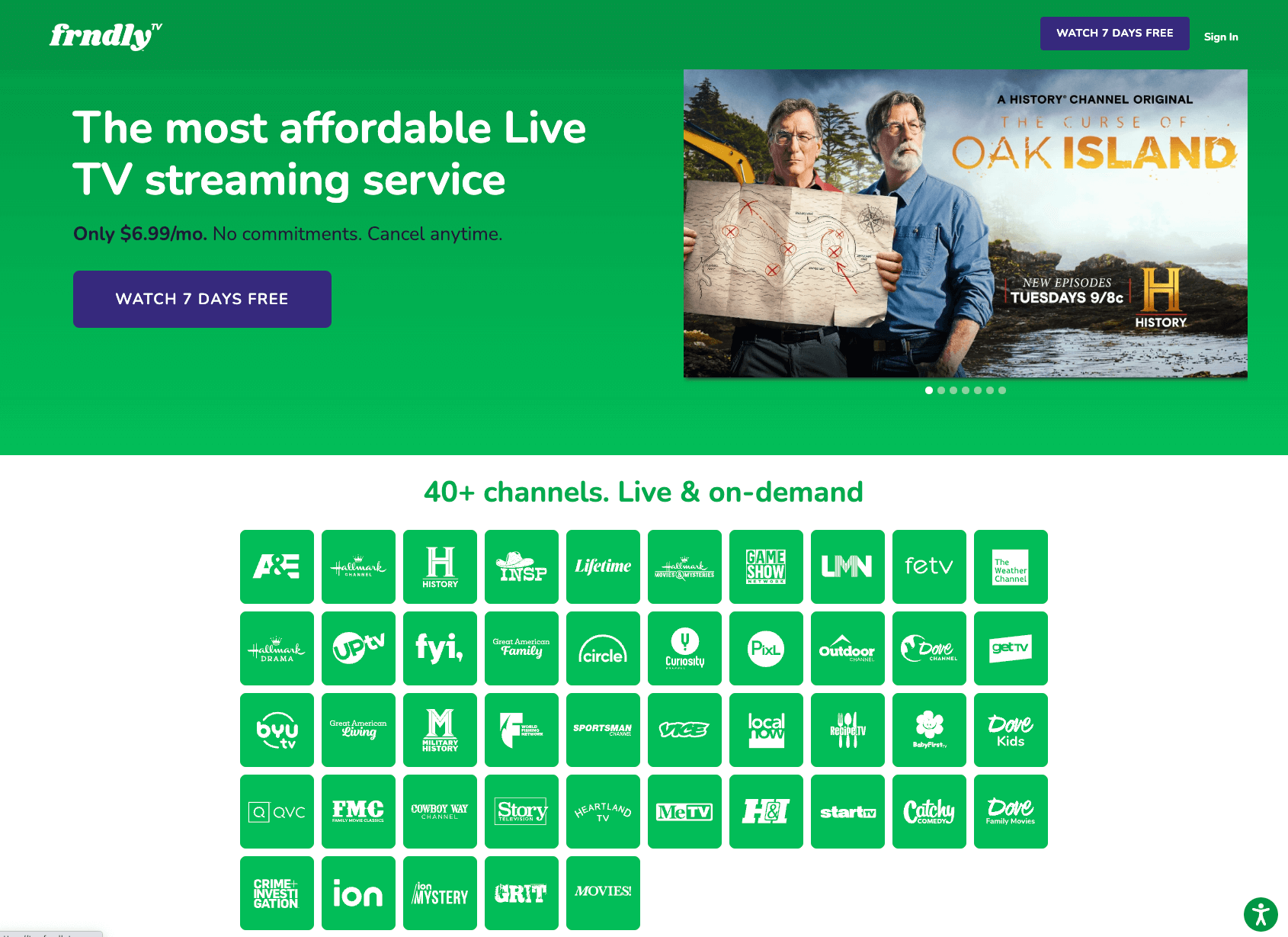 How to subscribe to Frndly TV
You can sign up for Frndly by using your credit card. When they ask for your zip card before submitting your credit card information just remember to write your zip code along with some additional digits so Frndly TV thinks you're in the US. (See this tip if you want further information on the zip code trick)
Supported devices for Frndly TV
In terms of device compatibility, Frndly TV is available on a variety of platforms. The service can be accessed via web browsers, as well as dedicated apps for iOS and Android devices. Frndly TV is also compatible with Roku, Amazon Fire TV, and Chromecast devices, making it easy to watch on a TV screen. Additionally, Frndly TV supports up to four simultaneous streams, so multiple family members can watch different channels at the same time.
Website: FrndlyTV.com