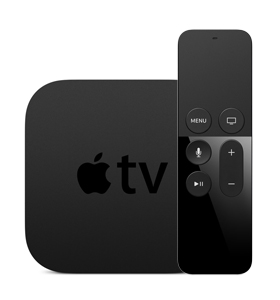 This guide is for the Apple TV with tvOS and Siri Remote (black or silver remote with a special Siri button). If you have a 2nd/3rd generation Apple TV, please refer to this setup guide.
You need a US Apple account in order to get US-only applications like Hulu, HBO Max, Sling TV, Showtime etc. on the new Apple TV. If you need help creating a US Apple account, just follow this guide.
---
How to setup the Apple TV with playmoTV DNS
When your Apple TV has turned on navigate with your remote and open Settings.
Here just select Network.
If you have connected your Apple TV to your Wi-Fi network, select it and click to continue. (If you connect via an Ethernet Cable, click Ethernet.)
A new window will appear, where you need to click your Wi-Fi network again. Do that and continue.
Once this window appears, go down until you see the Configure DNS field, which is probably set to Automatic. Scroll down and click this field. Make sure NOT to change the Configure IP field. That should still be set to Automatic.
Once you click the Configure DNS field, you will see the current DNS server (which is your router at the moment).

You need to be logged in to view this part


Already a member?


Once you have clicked Done go back go the main Settings screen and select System.
Now select Restart to apply your changes.