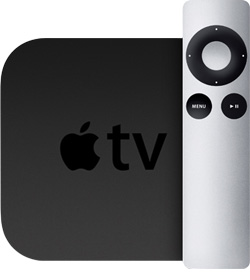 Apple TV
Before you start. This setup guide is only for the 2nd and 3rd Gen Apple TV. If you have the new Apple TV, then follow this setup guide. You need to have the remote and internet connection.
If you haven't updated you Apple TV in a long time you might be running an older version of iOS for Apple TV. We strongly recommend updating as we don't officially support Pre iOS 5.1.
If you have a 4th generation Apple TV, please refer to this setup guide
When your Apple TV has turned on navigate with your remote to the Settings section and select General
Here you just select General
In this list select Network
Depending on your connection you will either see Wi-Fi or Ethernet on top here which you then select. In our case we use Wi-Fi.
The list of available Wi-Fi networks is shown here if you connect via Wi-Fi. If you Apple TV is connected vie ethernet/network cable you will skip this step. If you haven't connected before to the network you choose, you will be asked for the Wi-Fi password.
Here you will see all the details for your internet connection. Select Configure DNS. Make sure the option Configure IP is set to Automatic. If it's not then select Configure IP and select Automatic.
Once you have selected Configure DNS you will see these two options where you select Manually

You need to be logged in to view this part


Already a member?


When the settings have been successfully submitted you will see the Wi-Fi Configuration screen again. Go back to the General part of the settings by clicking MENU on your remote a few times and select iTunes Store.
If you have a valid US iTunes account you would login here. But to activate US streaming apps on you Apple TV you will need to select Location.
Select United States
To make sure your new configuration has been added you will need to restart you Apple TV. The Restart button is located in Settings > General on the bottom of the list. You can also, using your remote, press and hold the Menu and the Play/Pause button simultaneously until the small light on your Apple TV starts blinking rapitly. Then release both buttons and the Apple TV should restart. Once it fully restarts you should be able to start streaming :)
If you would like to rent movies from iTunes you need a valid US iTunes account. If you don't have one
click here
to see how it's done. You then log in to your account in the
Settings
tab. Just make sure you select
United States
in the
Location
setting.